Frequently Asked Questions
---
What is Osteopathy?
Osteopathy is an effective manual therapy that aims for the root cause of pain, seeking to gently remedy the problem.  Osteopaths apply an holistic approach to clinical examination and treatment that considers the whole person and not just painful symptoms. To achieve this we pay particularly attention to the mechanics of the spine and pelvis paying particular attention to leg length discrepancies while at the same time considering how problems in these areas may effect the health of other tissues and systems within our bodies.
---
What is Cranial Osteopathy?
Cranial Osteopathy is a gentle, safe and effective treatment for babies, children and adults. Very specific, light pressure is applied to assist the body's natural ability to release strains. Even a normal birth can be stressful as the baby is squeezed through the birth canal. Some babies have a more difficult time, particularly if the labour is prolonged, the baby is positioned awkwardly in the birth canal or secondary intervention is used to assist the birthing process, such as Ventouse, Forceps, and Episiotomy.
---
What conditions do you treat?
Although most commonly know for helping "bad backs", Osteopathic treatment can help alleviate the symptoms of many conditions.

Pain
Sciatica
Tendonitis
Tennis elbow
Trapped nerves
Frozen shoulder
Muscular strains
Ligament sprains
Joint stiffness and pain
Headaches and Migraines
Pre & Post pregnancy pains
Sacroiliac joint problems
Work related strains
Postural problems
Whiplash injuries
Back & neck pain
Sports injuries
Slipped disc
---
What can I expect at my first visit?
Discussion of your current problem
Discussion of your medical history
Postural and physical examination
Clinical tests to diagnose your problem
Explanation of diagnosis and prognosis
Explanation of treatment approach
Commencement of the treatment
Bespoke stretching and strengthening exercises provided by:

On most occasions, and for the purposes of examination and treatment, you may be asked to undress down to your underwear.
---
How long will my treatment last?
Your first session will last up to one hour and will involve an initial osteopathic assessment, examination and treatment. Followup treatments last up to 40 minutes and typically occur weekly or fortnightly.
---
How many treatments do I need?
Typically, between two and six sessions are required, but the amount of treatment required will be discussed following your assessment and will depend upon your condition as some are more complex than others. Many patients decide that they would like to have periodic preventative or maintenance treatments to avoid recurring problems.
---
Do I need a GP referral?
No, it is not necessary to have a GP referral prior to osteopathic treatment. However, if you are claiming for treatment on your medical insurance you will need a GP referral.
---
What should I wear?
Dress comfortably in comfortable, loose fitting clothes. On most occasions, and for the purposes of examination and treatment, you may be asked to undress down to your underwear.
---

Treatment costs and Medical Insurance
The Maris Practice, Twickenham:
Cash or Credit/Debit cards are accepted.
Cigna Healthcare, Exeter Family Friendly, Healix Health Services Ltd, Pruhealth, Simply Health, Standard Life, Vitality Health and WPA are accepted.
Policy excess payments should be declared and settled with the clinic reception team directly.
Initial Assessment – 1 hour  £85.00
Subsequent Treatment – up to 40 minutes £65.00
---
What is your availability?
---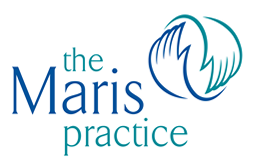 The Maris Practice, Twickenham
13 Baylis Mews
Amyand Park Road
Twickenham
TW1 3HQ
Call: 0208 891 3400 for appointments
Monday: 09:30 – 1800
Tuesday: 10:30 – 20:00
Wednesday: 10:30 – 20:00
Thursday: 09:30 – 18:00
---
To make an appointment please call:
The Maris Practice, Twickenham on 0208 891 3400 or

---
Where is you clinic?
The Maris Practice.   13 Baylis Mews, Amyand Park Road, Twickenham, TW1 3HQ
---